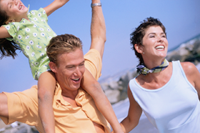 Help you deal with family problems is our main goal.
Our surveys will help to clarify the difficulties that you face.
In this way we can protect your family!
Our highly qualified service retrieves information about missing persons.

We also do the search for stolen goods, works of art and furnishings.
Read more...
We operate in the field of family investigations with utmost professionalism and confidentiality.
Family surveys allow you to collect evidence in case of separation and or divorce.
We can help you resolve any doubts regarding partner, children and family sphere.
Read more...
It is very important to know our children's behavior and acquaintances. They may come in contact with dangerous situations. Our service can help you narrow down the problem and adopt the right approach.
Read more...
Stalking ex art. 612 bis italian Penal Code
When the attention about a person become an obsession, they constitute the crime of stalking. An offense that is expressed through the control, monitoring, or even by threats to the physical person. Marlowe Investigations specializes in the collection of data and tests that assess repetition of harassing behavior.

Investigations defensive Law 397/2000

According to Law 397 of 2000, we can work together with law firms to collect exculpatory evidence, finding witnesses and other useful activities for the Defense.